26 July, 2023
Posted by:

Marketing Manager

Category:

News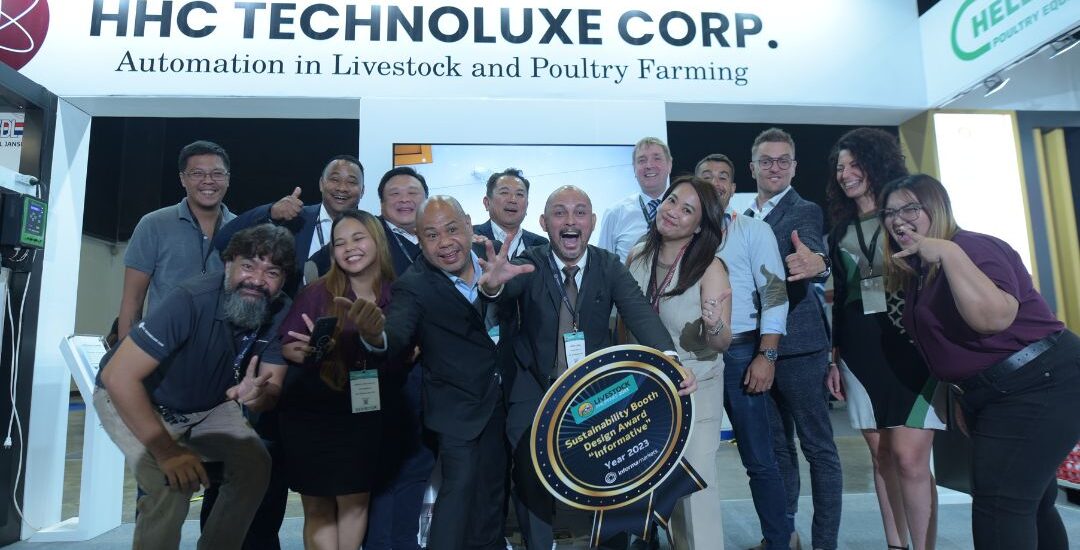 At Greengage, we take pride in our products and the outstanding support from our valued distributors. Our products, ALIS Lights and Sensors, have consistently set new benchmarks in the industry, thanks to their quality, innovation, and unique features. We are grateful to work with distributors who share our passion for excellence, and today, we want to shine a spotlight on our longtime partner and distributor, HHC Technoluxe, who went above and beyond at a recent trade show.
Inspired Stand Design that Shines
At Livestock Philippines 2023 trade show, HHC Technoluxe succinctly captured the essence of our ALIS Lights with imaginative stand design. Their ingenuity and attention to detail left a lasting impression on everyone who visited their booth, winning HHC Technoluxe a well-deserved award for their booth setup.
HHC Technoluxe decided to position ALIS Lights prominently above the other products they sell, showcasing ALIS' complementary nature that quite literally illuminates poultry production. By doing so, they not only highlighted the versatility of ALIS Lights but also demonstrated how ALIS can seamlessly integrate with other offerings to create a powerful synergy for the farmer.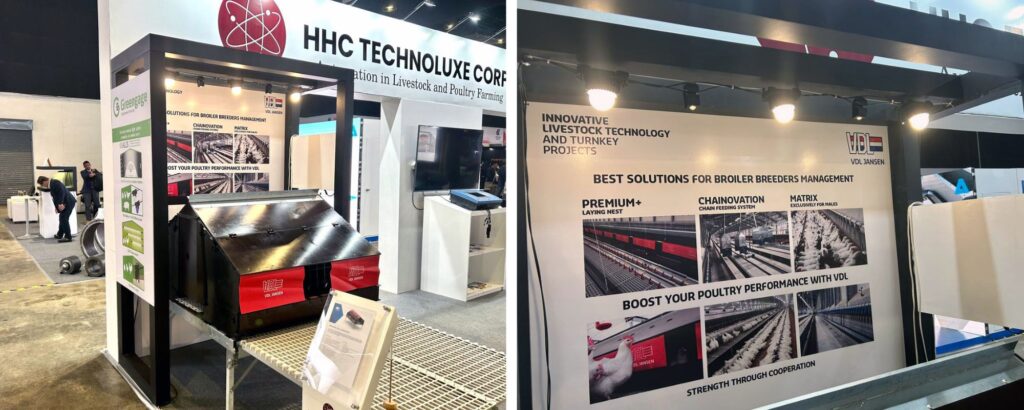 We always encourage our distributors to expand their portfolio and sign contracts with market leaders, bringing the best and the latest of agricultural technology to their clients. The way we see it in Greengage – it is a win-win. If our distributor flourishes, so do we. If they sell the best feeders, drinkers, ventilation, conveyors, packing equipment, then their clients receive the best products and expertise. The clients build lasting relationships with our distributors, relationships built on trust and professional integrity, so when our distributors offer them Greengage products, the clients are certain that they have been offered the best on the market.
This is certainly true for HHC Technoluxe, who are a trusted partner of many respected brands in the livestock industry. Among their carefully curated portfolio of brands are well-recognised names like Skov A/S, VDL Jansen, Hellman Poultry GmbH, Sanovo and Skiold. When professionals and industry veterans recommend Greengage ALIS Lights to get the most out of million-dollar equipment we feel very humbled and thankful for this recognition.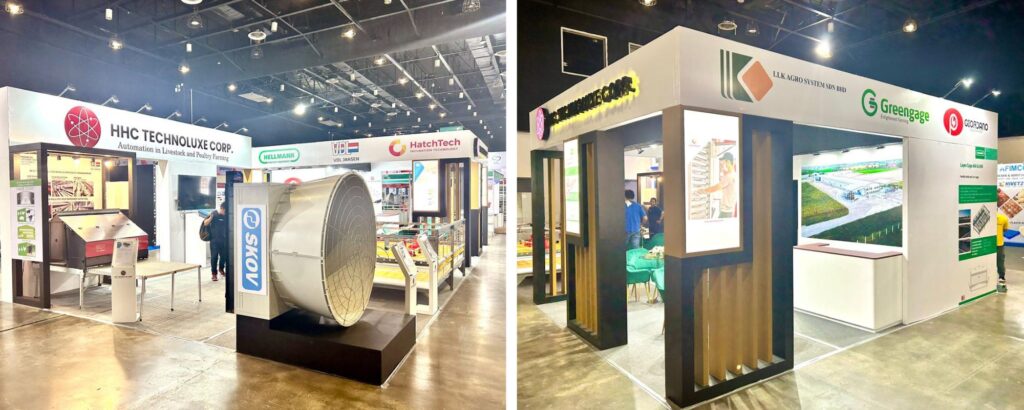 Showcasing the Science of Light
Walking into HHC Technoluxe's stand felt like entering a small reproduction of a poultry shed. Tech from major poultry equipment companies was lit with Greengage ALIS lights – a setup made possible with ALIS' unique flexibility and versatility. The engaging product demonstrations, and enlightening displays left visitors in awe, winning HHC Technoluxe an award for Informative Stand design. The arrangement showcased the unique features of ALIS Lights and the ways in which ALIS enhances other equipment in poultry production.
Herbert Cabral, HHC Technoluxe's CEO is one of the early adopters of poultry-specific lighting in the Philippines and is very knowledgeable in the science of light. On top of regularly giving lectures on the significant production gains from premium poultry-specific lighting, Herbert always maintains that proper lighting amplifies the benefits of other equipment, creating a synergy effect.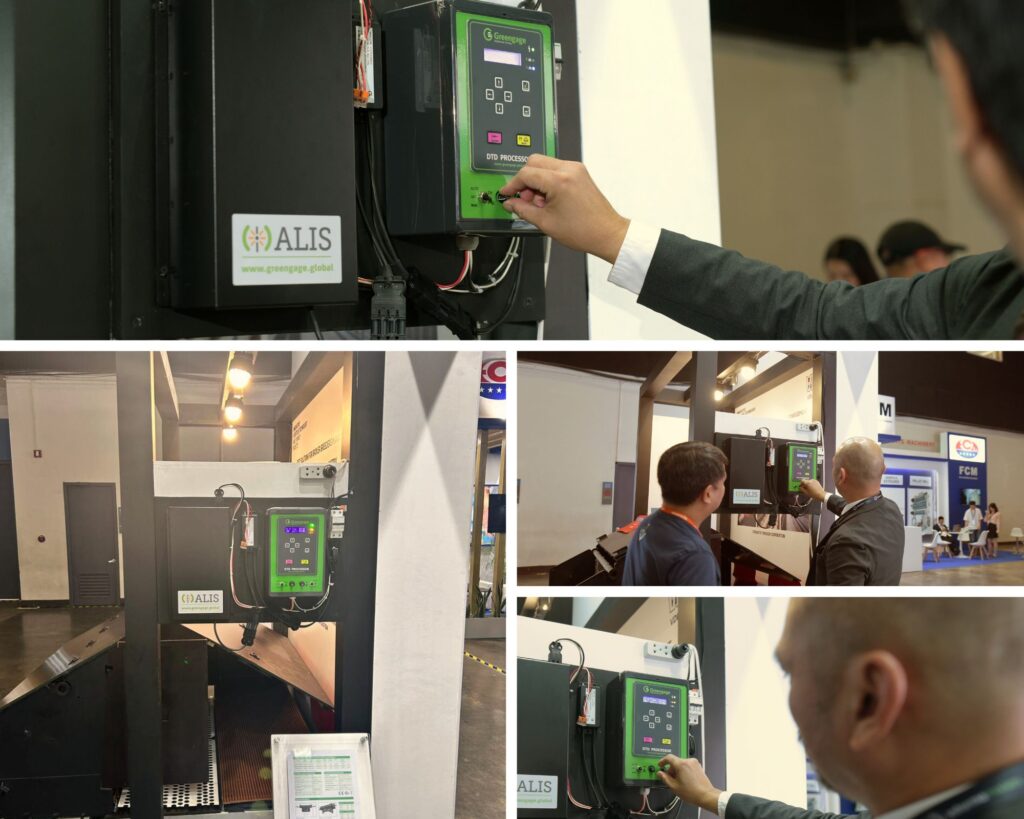 The interactive stand encouraged visitors to explore the control and programming of ALIS and displayed the possibilities of using ALIS Lights in various applications. HHC Technoluxe's staff was incredibly knowledgeable and passionate, making every interaction enjoyable and informative for all attendees.
Forging Partnerships and Exceeding Expectations
It is not the first time and certainly not the last when we at Greengage witness heartwarming dedication and enthusiasm of our distributors. This exceptional stand design not only delighted visitors but also caught the attention of industry peers and competitors alike. Such displays of creativity and devotion help to strengthen our brand and create lasting partnerships that benefit everyone involved.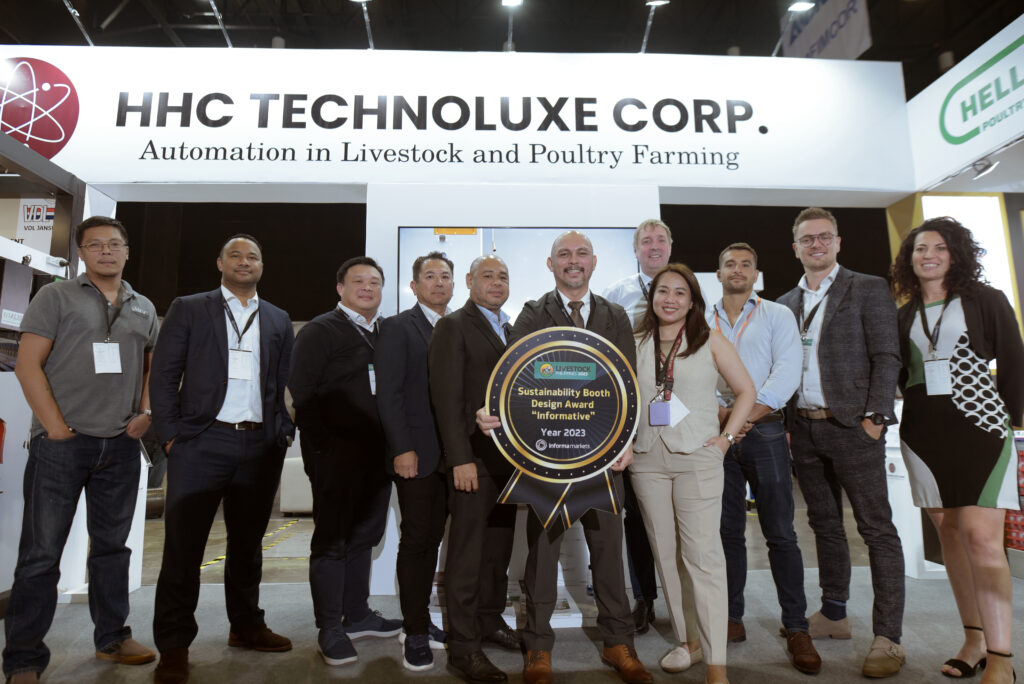 We firmly believe that our distributors are the backbone of our success, and this outstanding showcase by our partner exemplifies the power of collaboration and a shared commitment to excellence.
Recognising Excellence
In recognition of this distributor's exemplary effort, we would like to extend our sincere appreciation and gratitude. Their commitment to showcasing ALIS Lights in a way that celebrates its unique qualities is commendable and reflects the shared vision we have for poultry production.
We have certainly taken inspiration from this display and will continue to help our partners in their extraordinary efforts in promoting and showcasing our products with passion and creativity.
At Greengage, we value the dedication and innovation of our distributors, and this standout display at Livestock Philippines serves as a testament to the remarkable partnerships we have formed. Our products, particularly ALIS Lights, have found their way into the hearts of customers worldwide, thanks to the unyielding support of our distributor network.
As we look to the future, we are excited to build upon these partnerships, explore new opportunities, and continue providing top-of-the-line products that exceed expectations.
Thank you to all of our partners for being an integral part of our journey, and congratulations once again to HHC Technoluxe and Herbert Cabral whose inspired stand design truly set a new standard of excellence. Together, we will continue to shape the industry and drive innovation to new heights
Becoming a Greengage Partner
If you would like to become a Greengage agent, representative, distributor or dealer – fill out this form! For more information check out our article on the benefits of becoming a Greengage partner.