Digital DTD Controller V1.8
With a simple and easy-to-use interface, our DTD (Dusk till Dawn) Digital Controller (V1.8) creates 'natural' lighting patterns configurable by species, lifecycle stage and welfare requirements.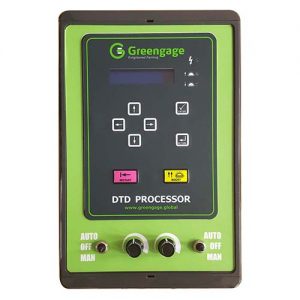 Benefits to the farmer
Customisable lighting levels encouraging more natural behaviour and mobility.
Creates a cadence of daylight for increasing welfare and productivity.
Improve overall livestock health through natural lighting patterns.
Five on-off cycles over two independent channels (ten in total) in a 24-hour period.
Programmable and variable fade-in and fade-out cycles.
Switch to ALIS™ Blue Lamp (see reverse) for poultry catching phase.
DTD Controller features
Lighting boost function to override the lighting intensity for a preset duration.
Two independent lighting controls for manual and automatic lighting patterns.
Simple mode setting switches for a single channel or two-channel operation and enhanced lighting pattern.
Control up to four lighting cables per channel (eight cables in total).
Power supply failure alarm.
Smooth dimming effect.
More products, resources and information