10 April, 2017
Posted by:

Greengage

Category:

News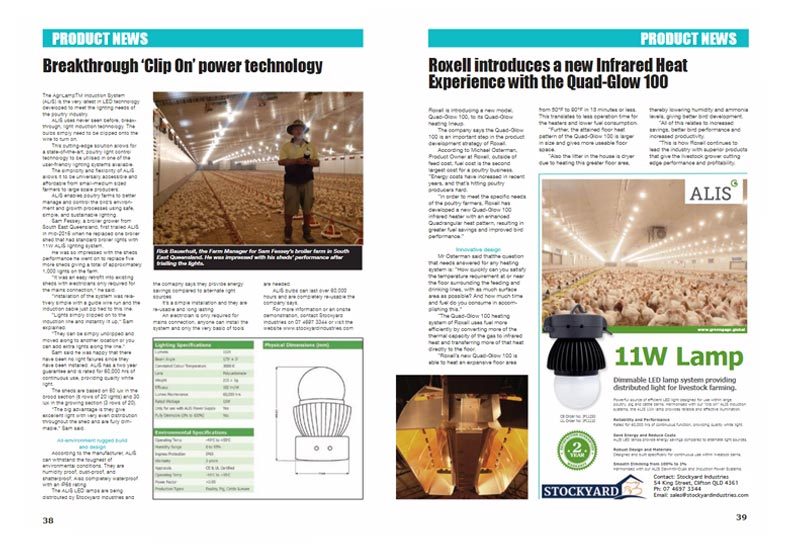 Our cutting edge ALIS "clip on" poultry lighting was featured in the product section of Poultry Digest magazine. Stockyard Industries, an ALIS distributor,  in co-operation with Rick Bauerhuit,  Farm Manager of Sam Fessey's Broiler Farm, located in South East Queensland was interviewed about his use of our ALIS lighting.
Having installed ALIS in a barn during the middle of 2016, Rick Bauerhuit has subsequently installed ALIS within five more houses, bringing 1000 ALIS lamps into effective use across his poultry farm. This decision to invest in ALIS LED lighting was made on the basis of the speed in which they can easily retrofit houses – as the induction power coupler enables the lamps to simply clip onto cables.
"It was easy to retrofit in existing sheds with electricians only required for the mains connection. Installation of the system was relatively simple with a guide wire run and the induction cable just zip tied to this line."
Excellent lighting distribution was cited as a key benefit inside his poultry houses, as was his chickens enjoying, the all important, quality white light the LED lamps produce. Rick stated that there have been no failures, as the lamps are rated for over 60,000 hrs, as well as being designed for agricultural environments with an ingress protection rating of IP65. Rick highlighted the substantial control the ALIS poultry lighting provided through a user friendly interface and the flexibility the system affords him as busy farm manager.
Stockyard Industries are a distributor of Greengage products in Australia: please visit the distributors page for their contact information if you're interested in installing ALIS inside your livestock houses.