Our most powerful LED lamp provides a dimmable replacement option for 100W to 150W halogen floodlights providing significant energy savings.
The 30W floodlight style lamp delivers dimmable, evenly distributed light and comes complete with mounting bracket. Removes dark areas providing a uniform distribution of light into livestock environments. Ideally suited to large single span buildings.
Robust and suitable for use with generators and emergency battery systems these floodlights are also suited for use with mobile units where power is an issue. It has been designed to provide wavelength and intensity for layers, broilers, pigs and cattle. Making it a true alternative to incandescent, CFL, fluorescent and sodium vapour lamps.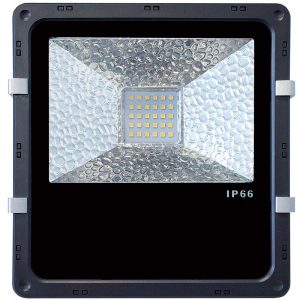 Product Features:
■ No UV or IR light radiation.
■ Instant "ON" to 100% brightness.
■ No mercury or other inorganics.
■ Even light distribution.
■ Excellent thermal efficiency.
■ Safety Standard: CE approved.
■ Works with worldwide electrical systems.
■ Fully Dimmable to 1%.
Technical Specification:
■ Source: Greengage LED
■ IP Grade: IP66
■ Lumens: 2800
■ Beam Angle: 110o ± 10o
■ Weight: 1600 ± 20g
■ Rated Life: 60,000 Hours or more
■ Temperature: -20oC to 50oC
■ Humidity Range: 0 to 95%
Electrical Specification:
■ Input Voltage: 200V – 230V 50Hz Ac
■ Power Consumption: 30W
■ Power Factor: >0.9
Certifications:
■ IP66
■ CE EMC
■ CE LVD
■ Product Code: FL30230A
More LED Agricultural Lamps:
To find out more about the many benefits of ALIS lighting and how our leading technology improves operational costs, animal welfare and productivity in precision livestock farming, submit your details below, and a member of the Greengage team will contact you to arrange a brief presentation.