The launch of a new suite of sensors, that seamlessly integrate with our ALIS lighting system, marks the start of a new chapter for the Scotland-based agri-tech business.

Greengage is committed to solving the increasing challenges in global food production by applying the science of light, research and patented technology to a new range of innovative LED lights, sensors, web app and data analytics.
Sensors clip on to the same ALIS (Agricultural Lighting Induction System) induction power cable used for lighting in livestock sheds, creating an aerial network of lights and seven sensors looking down on the animals; monitoring critical parameters for welfare, productivity and the environment.
ALIS Chirpy Sensor improves growth and productivity with acoustic measurements.
ALIS Cluster Sensor view flock mobility under any lighting level.
ALIS Greenhouse Sensor alerts and data for Ammonia, Carbon Dioxide and humidity.
ALIS Ambient Sensor monitor light and temperature.

Patented induction power technology is at the heart of the ALIS platform and was adopted by Greengage because of its numerous benefits:
lamps are not hardwired and clip on and off (see image below and this video clip) making them easy to install, maintain and re-position
reduces biosecurity risk since external contractors are not required to maintain lamps
relatively safer compared to incandescent and fluorescent lamps
low heat thereby reducing fire risk especially when straw is used in livestock barns
low energy consumption, for example, ALIS Barn Lamp consumes just 10Watts.

Summary of our new LED and patented inductively powered lighting line-up.
ALIS Barn Lamps (wide and narrow beam) has a rated lamp life of 100,000 hours and provides optimum lighting conditions for farmers' flocks.
ALIS Blue Lamps Creates calming conditions in poultry sheds for the catching phase.
ALIS Tube Lamps deliver optimum lighting conditions in layer systems using induction technology – keeping the power supply front of house for safety.
ALIS Nest Lamp provides poultry farmers with more control over their flocks, such as directing birds towards nests and reducing eggs on the floor.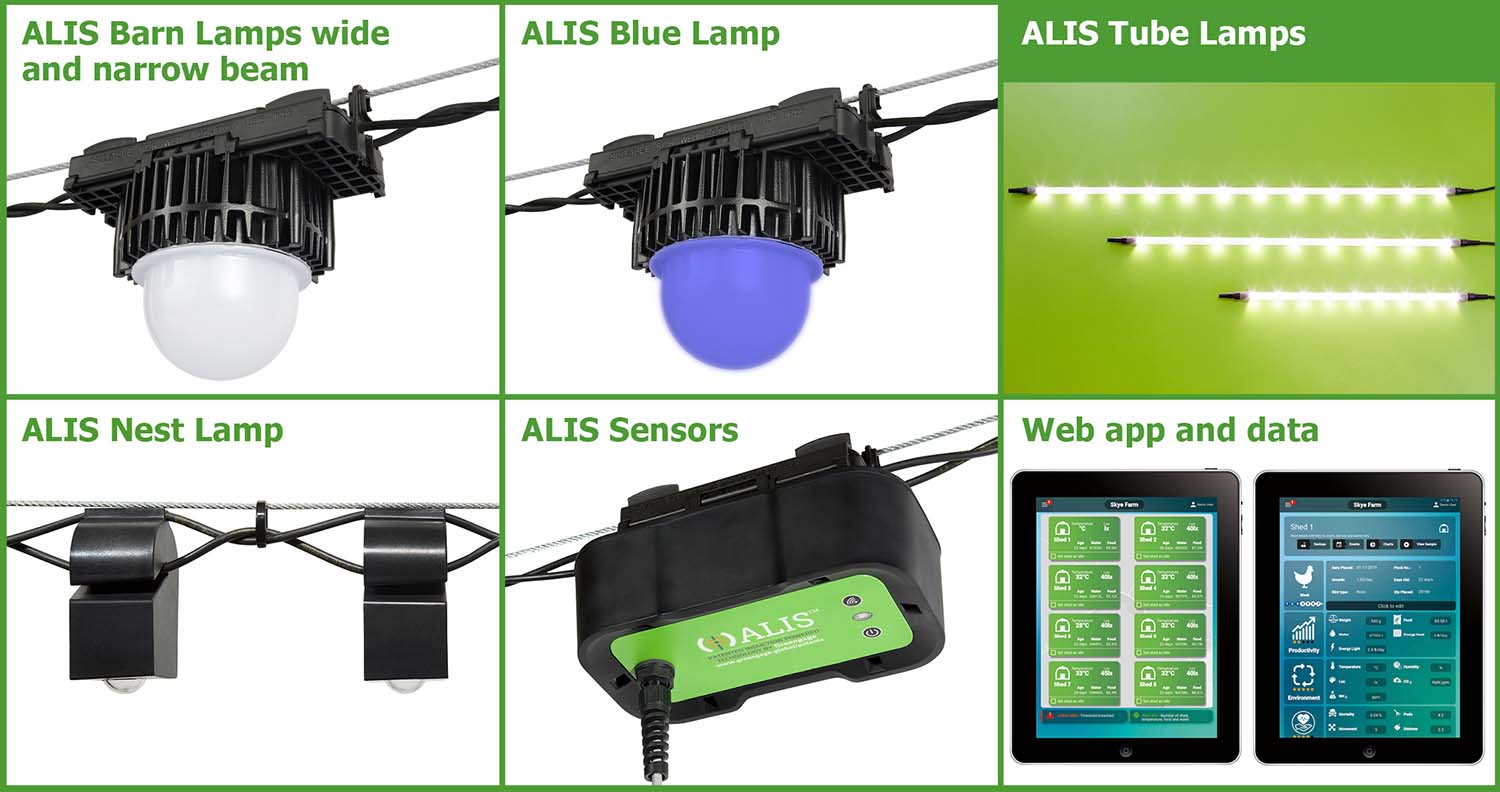 Contact Greengage on 0131 650 8851  to find out how our ALIS platform can improve productivity and animal welfare on your farm or request a presentation below.