First Minister, Nicola Sturgeon, formally opens Roslin Innovation Centre in Charnock Bradley Building, Easter Bush Campus.
The First Minister's visit to the Roslin Innovation Centre on 5 November 2018, coincidentally timed with Greengage's move into the impressive innovation hub for spin-in and spin-out companies specialising in commercial technology for life science.
Following a £10m investment by the Scottish Government, the hub embodies their goal of supporting education, research and business with world-class facilities and keeping Scotland at the forefront of animal science innovation.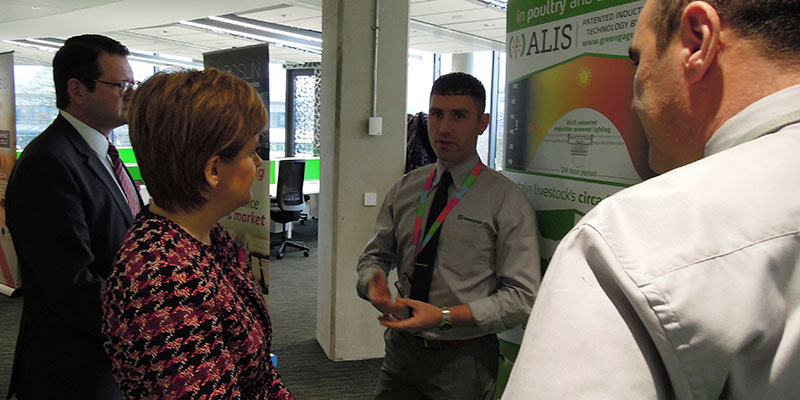 Based at a respected location for companies undertaking strategic, commercial and collaborative research in the Animal and Veterinary Sciences; agri-tech and One Health industries provides fantastic opportunities for Greengage. The growing agri-tech sector continues to be a key focus for the Scottish Government and the support from the First Minister helps illustrate how investment in agri-innovation in Scotland is having a global impact.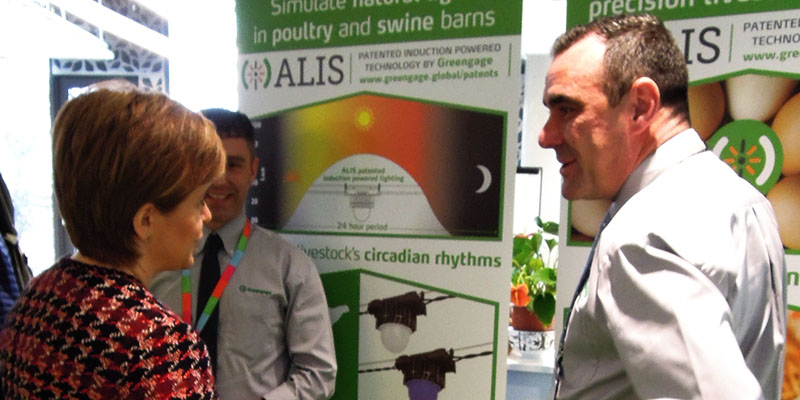 Greenage were delighted to present their patented lighting and sensor technology to First Minister, Nicola Sturgeon, at the official opening of the Roslin Innovation Centre. The First Minister was openly impressed by the products and reiterated the government's commitment to supporting and promoting agri-innovation going forward.

Greengage's new neighbours include: Ingenza, Argenta, Kajeka and Synpromics.
Originally, based in London, Greengage relocated to Roslin Innovation Centre next to the Roslin Institute in 2015 where the team have designed and developed a new range of patented induction powered LED lights, power hubs and controllers and will launch sensors, web app and data analytics in 2019.