Induction powered nest lamp for poultry layers and breeders. Illuminating nests for improved poultry behaviour and productivity.
A robust source of energy efficient light, literally hangs off the ALIS induction system, directing birds towards nests. Poultry farmers should enjoy more controllable flocks and less eggs on the floor. Our Dawn till Dusk controllers provide additional dimming control.
Designed to work in close proximity with poultry birds and be resistant to typical cleaning and disinfection processes. Certified as "Rough Luminaire".
Consuming only a fraction of a watt, the ALIS nest lamp provides a significant energy saving compared to alternate lighting systems.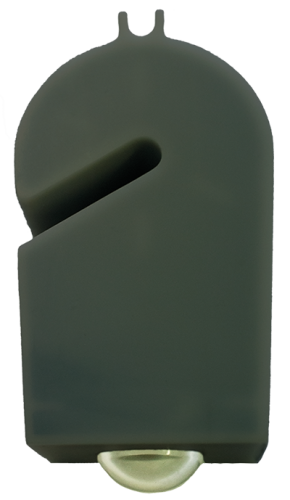 Features
■ Easy "Hang On" Induction Connection.
■ Robust Casing Material, which is IP69K.
■ Long Life and High Powered LED.
■ Smooth Dimming from 1% to 100%.
■ Suitable Light Source for Layer and Breeder Nests.
Lighting Specifications
■ Light Source: 1×0.3W LED
■ Lumens: 30
■ Beam Angle: 120 degrees
■ Rated Life (L70B50): 60,000 hrs
■ Correlated Colour Temp: 3000
■ Colour Rendering Index: 80
Environmental Specifications
■ Operating Temp: -20 oC to +55 oC
■ Impact: 6.5 Nm
■ Vibration: 0.35 mm, 10 Hz to 55 Hz
■ Compatible with cleaning agents
■ Ingress Protection: IP69K
■ Warranty: 2 years
■ Approvals: CE & UL Certified
More LED Agricultural Lamps: